Having trouble sorting out fact from fiction about fat loss?

How would you like to have a professional research
scientist help you find the real truths for shrinking
your belly and thighs – once and for all?
That's where I come in. I am that scientist who can help you. I have surveyed the scientific landscape to find the real facts about fat loss. That's how I slimmed myself down more than a decade ago.
Truths are out there, if you can find them among all the crap they are buried in.
Your success in getting and staying slim for the rest of your life depends on finding and taking the right action.
Now you can do what I did for myself. My ebook, Fat Loss Biology: The Science Behind Why We Get Fat and How to Lose It tells you what works, based on good scientific research.
You may be just as surprised as I was when you discover how your body is supposed to work for burning fat.
Here are just a few examples:
Fat loss has very little to do with dieting or exercise.
You do not get fat because you are lazy or slothful or because you overeat.
Fat loss has very little to do with weight loss.
One key hormone drives fat metabolism – and it's not estrogen or testosterone.
The low-fat diet craze may be the worst health advice ever perpetrated on the public.
Weight and BMI are worthless as indicators of good fat metabolism.
The bedrock of effective fat burning depends on getting rid of cellular garbage.
Certain widespread food additives can completely undermine your fat metabolism.
Eating saturated fats does NOT make you fat.
Most weight loss supplements are useless.
That goes the same for prescriptions drugs.
Diet books are typically misleading about actual human metabolism.
Counting calories is irrelevant.
All of these truths fail a crucial test about fat loss:
They do not account for human biology – i.e., the biology of fat metabolism.
I know all this seems like a lot to swallow (pardon the pun). Nevertheless, everything that I have found out about fat loss is supported by solid scientific research. It's what has worked for me and hundreds of others over the years.
That's what I explain in my ebook, with easy-to-do pointers on how to put your body back on track for getting and staying slim for the rest of your life.
A Free Bonus
Fat Loss Biology includes a section explaining why calories are irrelevant. The topic is important enough that I have expanded on it in a bonus booklet that you will get at no extra charge: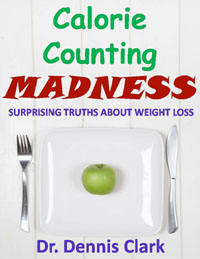 Take the Plunge
So go ahead, join me and hundreds of others who have already benefited from the right strategies for getting slim and healthy the right way.
To give you just a little more incentive, I've put Fat Loss Biology on sale for the rest of this month. For now you can get it for only $14.97.
Once you submit your order, you should be automatically sent to the download page. That is, if my cybergremlins don't act up again.
All the best for healthy fat loss,
Dr. D