FRUSTRATED ABOUT FAT LOSS?
CONFUSED BY CONTRADICTORY ADVICE FROM SO-CALLED EXPERTS?
How would you like to have a professional research scientist
tell you real truths for shrinking your belly and thighs – once and for all?
That's where I come in. I am that scientist. I have surveyed the scientific landscape to find the real facts about fat loss. Facts that showed me how to slim myself down more than a decade ago.
And how to keep off off that annoying fat easily and effortlessly ever since then.
Some Really BIG Surprises
Some of the "truth nuggets" I found will surprise you as much as they did me.
For example:
FAT LOSS has very little to do with diets,
exercise, supplements, or weight loss drugs.
That's right. Dieting doesn't work. Exercise doesn't work. Supplements are ineffective. Weight loss drugs are ineffective AND dangerous.
Has your jaw dropped yet? Yeah…mine did, too.
Unfortunately, all that dogma about fat loss obscures one thing…
FAT LOSS IS NOT DIFFICULT!
Your body is already perfectly adapted to being lean and healthy. If you happen to have a little excess fat – or even a lot — all you have to do to get rid of it is take advantage of your own ready-made biology.
How to do exactly that is the subject of my ebook, Fat Loss Biology: The Science Behind Why We Get Fat and How to Lose It.
Once you understand how your body is supposed to work, you will know exactly how to shed your unwanted fat and keep it off for the rest of your life.
Your own biology is your best friend – not a greedy weight loss industry.
The Surprise That Shocked Me
During my research I uncovered a shocking secret…
Calories are irrelevant.
It's not just that counting calories is useless.
It's that calories in food don't matter whatsoever!
The whole notion that food calories mean something represents very simple-minded thinking. Dogma around this concept is nothing short of brainwashing.
Although I explain about calories in my ebook, I think it is valuable to really dig into the facts. That's why I wrote a brief ebook on the topic that I think you should have – at no extra charge.
It is Calorie Counting Madness: Surprising Truths About Weight Loss.
You get it as a free bonus when you order Fat Loss Biology.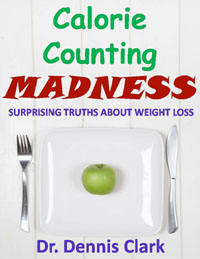 Ready to Take the Plunge?
Go ahead, join me and hundreds of others who have already benefited from the facts I've uncovered for getting slim and healthy the right way.
To give you just a little more incentive, I've put Fat Loss Biology on sale for the rest of this month. For now you can get it for only $14.97.
Once you submit your order, you should be automatically sent to the download page. That is, if my cybergremlins don't act up again.
All the best in natural health,
Dr. D