WHY DOES CALORIE COUNTING MAKE NO SENSE?
You are really going to be surprised when you find out.
Keeping track of calories in food rests on a gigantic hole in logic based on human biology.
When I discovered this hole, I realized that all the advice about dietary calories for fat loss amounts to brainwashing.
Here are just two little tidbits for you to chew on (sorry…couldn't resist):
1. CALORIES ARE WEIGHTLESS!
2. THERE IS NO WAY YOU CAN EAT CALORIES!
I became a little heated when I realized these and several other facts about calories. My rant on this topic led me to write a brief ebook explaining the long-ignored realities about calories.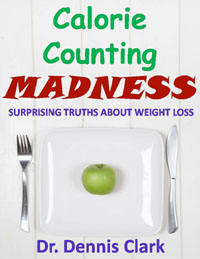 Counting calories has been a time-honored aspect of fat loss and weight loss advice for decades.
Unfortunately, it is also superficial, simple-minded, and just plain idiotic.
You really should know what calories mean and what they don't mean when it comes to food and dieting. That's why I am giving away this little book on calories as a bonus when you purchase Fat Loss Biology: The Science Behind Why We Get Fat and How to Lose It.
Finding out how your body actually works for fat metabolism is going to be a pleasant surprise for you. See what I mean when you order it here.
To give you just a little more incentive, in addition to giving away my book on calories, I've put Fat Loss Biology on sale for the rest of this month. For now you can get it for only $14.97.
Once you submit your order, you should be automatically sent to the download page. That is, if my cybergremlins don't act up again.
All the best in natural health,
Dr. D